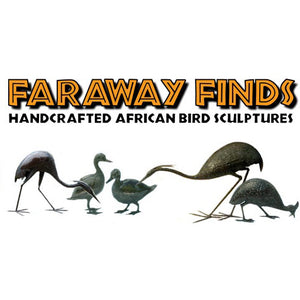 Faraway Finds continues
We are please to announce that Faraway Finds is continuing under new ownership. Mark and Sian have built up the Faraway Finds brand over many years where it has come to exemplify fair trade responsibly sourced products from talented artists and crafts people across the world. We are very happy to be taking the reins of this business and continuing to provide these goods to the European market.
Faraway Finds provides a very large range of metal garden sculptures. By importing our art directly from indigenous African artisans we are able to obtain competitively-priced, hand-crafted African wildlife art from genuine sources. We specialise in different types of garden sculptures offering excellent quality and value. Many designs are available to add beauty and grace to any garden, landscape or interior design setting.
---